Dual Tuner Advanced Recorder
Internal 4000GB HDD
3 FullHD Video inputs
$5980
This special Build-to-Order MTV8000D-4TB comes with a 4TB internal HDD. You can record up to 4000 hours using it's advance video encoding/transcoding function.
The new MTV8000D Advanced Recorder is the latest in our Magic Link series. The 3 HDMI 1080P Full HD inputs allow Now TV and Cable TV boxes to be connected and controlled, while the new processor provides even more recording flexibility.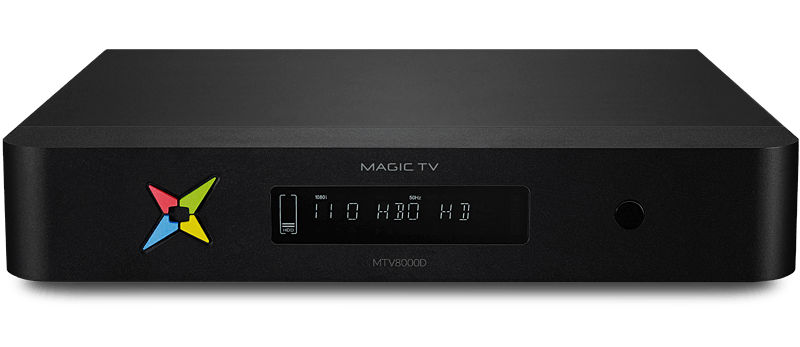 Magic Link
One-touch recording across all Free TV and Pay TV channels with one remote and one interface! That's Magic Link — only from Magic TV™.
Simply connect your set-top boxes and the Internet to Magic TV™ using the included cables and let MTV8000D take control of all your Free and Pay TV viewing and recording! Magic TV™ provides full 7-day programme guides for all the available channels*. If you choose a Now TV or Cable TV channel, Magic TV™ simply uses the connected boxes to provide the picture and sound.
MTV8000D also includes the ability to record an external input whilst watching another!


Magic Link for myTV SUPER
Firmware 11.1 Beta includes support for MyTV Super from TVB.
This is an on-demand set-top-box, but once connected to MTV8000D, you can control, record and store programmes for later viewing.
Simply connect the HDMI output of MyTV Super to one of the MTV8000D inputs and connect the InfraRed transmitter provided.
No need to use up an HDMI input on your TV.
As there is no EPG for on-demand programmes, simply use the instant recording or timer recording on Magic TV™.
Use Magic TV™ Share (see below) to share MyTV Super recordings around your house.


Video Streaming (iPhone/iPad App)
Magic TV™ MTV8000D can act as a video server, streaming video and audio direct to your iPhone, iPad or iPod Touch. Don't miss a second of your favourite sport; take TV and recordings around the house or catch up on Recorded Programmes at any time, anywhere!
Your iPhone or iPad can remotely turn on Magic TV™, set the channel and start watching your favourite programme.
External inputs
MTV8000D includes 3 HDMI 1080P Full HD inputs and a Composite/S-Video input for connecting external sources. These can be used for Magic Link and Video Streaming (see above) or for viewing and recording from video disc players, games consoles or other video devices. It can also be useful if your TV has run out of HD inputs. Simply use Magic TV™ as an HD video switch.
Real-time HD encoding and transcoding
All Magic TV™ units record the original broadcast stream losslessly for maximum quality; however, MTV8000D also includes options for 10 levels of HD and SD real-time transcoding in reduced video size.
This offers the ability to pack even more hours of recordings onto your drives. Up to 4000 hours on the internal HDD!
The new processor in MTV8000D improves quality and speed.
The highest quality components
Pixel Magic have a reputation for superior audio and video quality and every component has been chosen especially for its ability to communicate every detail available from the digital High Definition broadcasts.
Hardware highlights include:
The latest Sigma SMP8673 processor is 3D-ready and 60% faster!
Digital CMOS silicon tuners and demodulator chips provide outstanding reception performance.
Dual tuners allow the recording of any two programmes simultaneously. MTV8000D can also record a 3rd external input at the same time!
Cool-running design created for fanless silence and prolonged component life.

Internet-enabled EPG enhancements
Adding an Internet connection provides Magic TV™ with unique programme data and unlocks powerful recording features.
iEPG highlights include:
Enhanced Electronic Programme Guide. Featuring genre icons, genre browsing and increased programme data.
Series Recording. Additional Internet data is used by Magic TV™ to enable reliable episode linking. Now you can select 'Record this series' to record a whole series even if episodes are in different time slots.*
Automatic Rescheduling. Magic TV™ detects if the schedule for a programme in the To Do list changes. Recording times are automatically changed to match.*
Magic>Play
Stream photos and video from an iPad and iPhone direct to your TV!
When Magic TV™ and your iOS device are on the same network, simply tap the

Airplay button and choose Magic TV™ to send YouTube videos, Internet radio, slideshows, iTunes music and more, directly to your TV.
Note: Magic>Play may not work with some online video formats. We will continue improving Magic>Play compatibility through firmware update.
Magic TV™ Share
You can now share recordings made on one Magic TV™ unit throughout your home to other Magic TV™ units. Access all of your recordings from any room in the house!
Simply add multiple Magic TV™ units to your home network.
Note: Magic TV™ MTV3100 and other older models containing the Sigma SMP8635 chip can view other Magic TV™ recordings but not share their own recordings.
Edit recordings
Add bookmarks to recordings and skip between them, or trim out whole sections of unwanted footage to save time.
Edits are non-destructive, so you can undo them at any time. Or you can choose to free up disk space by making edits final.
Record on multiple HDDs (Hard Disk Drives)
Seamlessly expand your storage capacity by connecting one or more USB disks to Magic TV™. Copying, moving, editing and playback from these disks are all fully supported. You control how they are used.

Remote Recording: Record from anywhere!
You can now set Magic TV™ recordings from your browser! Simply connect Magic TV™ to the Internet and log in to the Remote Recording website. Wherever you are, you can now browse and search programmes, look up programme information, and set Single, Series or Repeat Recordings.
Friendly
Step-by-step guided setup, clear menus, 7-day electronic programme guide (EPG) and 'at-a-glance' front panel display all combine to provide easy operation for the whole family.
Magic TV™ comes with a full printed instruction manual clearly explaining every feature and option.
Flexible navigation
Magic TV™ includes many unique features, allowing you to get to what you want, fast:
One Touch Channel Select — assign channels to a single number key.
1.5x, 2x, 4x, 8x, 16x, 32x and 64x fast forward and rewind .
Skip by minutes during playback (from 1 - 9) or jump 30 secs with the prev/next buttons.
On-screen icons, timebars and hints so you always know what's going on.
Helpful shortcut keys exist throughout the system to speed navigation.
Class-leading learning remote control
The Magic TV™ remote control features 4 learning buttons which allow you to turn on your TV, change the input to Magic TV™ and adjust the volume of your sound system — all with one remote.
The intuitive button layout, tactile buttons and colour-coding put every Magic TV™ feature at your fingertips.
Camera movie playback and storage
Browse and play your AVCHD camera and camcorder movies through Magic TV™. You can also copy movies to the internal HDD to store.
Environmentally sensitive
Lead-free electronics throughout and an intelligent power-saving mode help reduce the environmental impact.

= An Internet connection to Magic TV™ is required to enable these features.
* Every effort is made to ensure the accuracy of iEPG data; however, Pixel Magic does not guarantee the accuracy or reliability of information supplied by broadcasters.
Additional software features

7-day HD EPG with Vertical and Horizontal layout options
Aspect Ratio Correction modes: Full, Wide Zoom (non-linear stretch), Pillarbox/Letterbox, Zoom 1, Zoom 2
Continuous playback of multiple recordings
Storage folders to organise recordings
MHEG-5 Interactive TV support
Customise your TV Channel numbers

Additional hardware details

Video DAC: 12-bit 150MHz
Audio DAC: 24-bit 192KHz
Front panel display with alphanumeric display and helpful status icons
4000 GB Hard Disk Drive
Power Saving Mode included

Digital TV standards

China DTT standard GB20600-2006 (DMB-TH). Requirements for Higher-tier DTT Receivers (HKTA 1108), Hong Kong Telecommunications Authority

OSD Languages

Traditional Chinese
Simplified Chinese
English
Video decoding formats

MPEG 2 and MPEG 4 AVC/H.264

Audio decoding formats

Dolby Digital and PCM audio. Includes downmixing for Stereo systems

Supported output TV formats

SD:

HD:

480p 60Hz
576p 50Hz
720p 50/60Hz
1080i 50/60Hz
1080p 50/60Hz

Smooth frame rate conversion: 50Hz to 60Hz supported
Support for 16:10 screens

Firmware upgrade

Via external USB thumbdisk or OAD (Over-the-Air Download) Protected firmware provides risk-free upgrading

Remote control

Infrared smart remote with 4 learning buttons (TV power, TV input, Vol+, Vol-)
Colour: Black
Rear connections

RF:

Antenna input x1 and antenna loop-through x1

Video output:

1x Composite Video (Standard Definition only)
1x HDMI with embedded audio
1x Component Video

Audio output:

Digital:

1x SPDIF Optical
1x SPDIF Electrical (Coaxial)

Analogue:

1x Stereo Audio (Stereo pair)

Video input:

3x HDMI with embedded audio, support 1080P Full HD
1x Composite Video or 1x S-Video

Other connections:

Infrared (IR) output for controlling devices connected for Magic Link
USB 2.0 x2 for firmware upgrading, connecting external storage, camcorders
Ethernet 1000-Base-T x1 for Internet-enabled features and return path of Interactive TV services

Dimensions

325mm (W), 230mm (D), 62mm (H), 3.3kg

Power Consumption

Operation: 40W MAX
Standby: <1W

Power supply

+12V DC. 100-240 VAC auto-ranging power adapter