Magic TV™ MTV8000D/MTV7000D Frequently Asked Questions
After connecting HDMI video source on MTV7000D HDMI Input, there is no picture.
Please make sure the video source is NOT outputting 1080p signal. MTV7000D does not support 480p/576p/1080p Input, please configure the video source to output in 720p or 1080i.
After recording from external video input, can it played back on other devices?
Recordings made from Component/Composite/S-Video Input, can be playback by any device.
Recordings made from HDMI Input, can be playback by Magic TV™ only.
How many TV channels can MTV8000D/MTV7000D records at the same time?
2 Terrestrial TV channels, or
1 NowTV or CableTV channel, and 1 Terrestrial TV channel, or
1 external video Input, and 1 Terrestrial TV channel
Are all models of NowTV and CableTV set-top boxes supported?
Yes, as long as your NowTV or CableTV set-top box has HDMI/Component/Composite/S-Video output.
How to obtain NowTV and CableTV program guide via iEPG?
After connecting NowTV and CableTV set-top boxes on Magic TV™, please also connect Magic TV™ to the internet via wired LAN cable, in order to access the iEPG program guide.
Why are some NowTV or CableTV channels not visible in iEPG?
By default, Magic TV™ only displays a preset channel list. Please go to Magic TV™ Settings > Channel Setup > Choose Favorite Channel > NowTV / CableTV and customize the channel list to your preference.
See section 8.7 of the Owner's Guide.
After adding a scheduled recording, do I need to switch NowTV or CableTV to the recording channel?
There is no need to manually switch channel on NowTV or CableTV. Magic TV™ uses the special Magic Link (Please configure the Infra-red cable from Magic TV to NowTV/CableTV boxes) function to automatically switching NowTV and CableTV channel for recording.
See section 3.5 of the Owner's Guide for Magic Link wiring.
How do I set up Video Streaming (local Wi-Fi Network)
Magic Link models act as video servers, streaming Live TV and Recorded Programmes direct to your iPhone, iPad or iPod Touch.
Watch live sports or TV events when away from home
Take Live TV and recordings around the house with you – kitchen, bedroom, garden – no TV required
Catch up on your Recorded Programmes at any time
Monitor security cams, camcorders, etc – anything you can connect to the Magic TV™ video inputs.
Initial setup
Navigate to Main Menu > Magic TV Gadgets > Video Streaming and select 'On' from the menu.
Download the App
Links to the iOS and Android apps can be found on our Downloads page. Install and launch the app as usual and your mobile device will automatically detect any Magic TV™ on the local Wi-Fi network.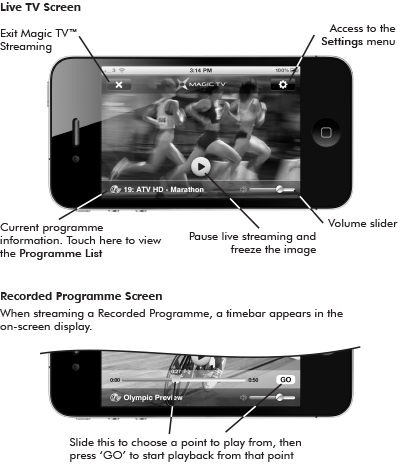 See section 7.5 of the Owner's Guide for further information.
How do I set up Video Streaming on another network (mobile or external Wi-Fi)
After setting up local streaming (above) follow these additional steps:
In the app, tap the 'Settings' icon

In the settings menu, tap the 'Usage' area and select 'Home and Outdoor'
In order to allow your mobile device to communicate with your home network from an external 3G, 4G or Wi-Fi network, you may need to configure your router for Port Forwarding and Dynamic DNS (DDNS). Please refer to your router's documentation for how to open a port for Magic TV™ Streaming.
Once this has been configured, the Host IP and Port Number need to be entered into the Streaming App's settings screen.

How do I set up Channel Sharing
With Magic TV™ Channel Sharing you can view and record CableTV & NowTV from all units in the house.
Under the same home network (wired connection is recommended), MTV8000D can share CableTV and NowTV channels to other Magic TV™ units for live viewing and recording.
Requirements
A home network (a wired LAN connection is recommended)
2 or more Magic TV™ units
The serving Magic TV™ unit must be MTV8000
Receiving Magic TV™ units can be MTV3200, MTV3300, MTV3700, MTV3800, MTV7000 or MTV8000
Setup
On the serving MTV8000 select Magic TV Gadgets > CableTV/NowTV Channel Sharing > Channel Sharing Server > Enable
On each receiving unit in Magic TV Gadgets > CableTV/NowTV Channel Sharing > Watch Shared Channel > Enable
Once setup, the receiving Magic TV™ unit will behave exactly the same as the serving 'Magic Link' unit with the same Channel Lists and iEPGs.
Note:
When the sharing MTV8000D is recording CableTV/NowTV, Channel Sharing will be disabled temporarily.
When a MTV8000D has directly connected CableTV and NowTV it cannot receive the same shared channel from another MTV8000D on the network.